DEBLAR's team of seasoned professionals can design appropriate evaluation instruments to determine which program features work and which do not. Based on years of practical experience in program evaluation, DEBLAR provides recommendations for further enhancement of our client's programs. We have expertise in formative and summative evaluation processes to facilitate better decisions involving restructuring or future funding. In partnership with an organization, DEBLAR will track program evolution and suggest adjustments that strengthen programs.We provide feedback about successes and short falls in process implementation and support strategies to assist reaching stated goals and objectives. The US Department of Energy, Ohio EPA, National Labs, the Alcohol Drug & Mental Health Board of Summit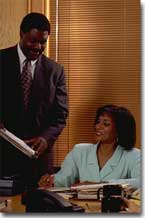 County Ohio, and NASA as well as university programs have utilized DEBLAR & Associates' evaluation services.
DEBLAR & Associates, Inc. also uses focus groups to help client organizations plan and design new programs, assist in evaluating existing programs, and produce insights for developing marketing strategies or employee enrichment and training. Our staff of associates has substantial experience in conducting culturally specific focus group sessions. In addition, we have used brainstorming and nominal group techniques in the selection of research strategies and policy impact.
Development Planning & Fundraising Strategies
Fundraising has become an increasingly important for public, private, and higher education administration and for service organizations. DEBLAR & Associates, Inc., understands that establishing competitive advantage for service providers, corporations, government agencies, small business, not-for-profit organizations, or school systems requires a step-by-step process development process. It takes skill, time, and persistence to succeed along with the proper identification and cultivation of prospects.
Your organization may be wondering how to take advantage of funding opportunities offered through major national corporate, foundation and/or state initiatives or you may have realized that your Board of Directors and the organization itself needs some capacity building or development assistance. Our service begins with a meeting wherein we listen to your concerns and identify the main issues or needs. We document the priorities of those needs and layout recommended courses of action that can help achieve your programmatic goals.
Funding for programs can be found within government agencies, foundations, corporations, or private sources and individuals. We can help develop a strategic plan for annual campaigns or for targeted projects that support community building, economic development, or strengthening education.



Importance of Fundraising

Keys to Fundraising

Fundraising is never an end in itself.

It draws both its meaning and essence from the ends that are served: caring, helping, nurturing, guiding, uplifting, teaching, creating, preventing, advancing a cause, preserving values, etc.

Integration of the strategic fundraising plan into the business plan and mission of your organization
Identification of prospective donors as agents for fundraising
Connecting all in the organization to the concept of Prospect and Donor relationship building
Donor management and creating the situation for the sale
Project References:
Challenge Program, Walsh Jesuit HS – Identified corporate and foundation supporters for an academic program for college bound minority students interested in science or health related careers
Southern Partners Fund – Supported development of major grant application and development strategic plan www.spfund.org
Atlanta Technical College – Provided Board development training and annual appeal planning assistance www.atlantatech.org

Family Development Task Force, Cordele Ga. – Designed and conducted a workshop series addressing principles of funding plan development, organizational budgeting, program planning and evaluation, and proposal development